By: Olivia and Grace, 10th grade students at The Hewitt School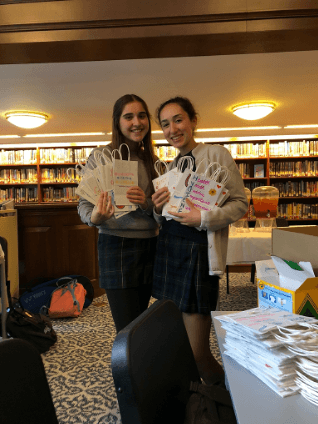 Our names are Olivia and Grace. We are the creators and founders of Confident, Healthy Women, an organization made to supply the women of New York City who don't have access to feminine hygiene products they need. We supply these products in decorated goodie bags with personal and empowering messages to the women receiving them.
The idea for our project came to mind when we applied for the Riley's Way Foundation Call for Kindness. The Call for Kindness is a contest that funds ambitious, teen-led projects that drive change, inspire kindness, and build meaningful connections in their communities. The competition is open to all teen-led projects across the United States. This competition inspired us to pursue our mission of ensuring that all New York City women have proper feminine hygiene products. Although we were ambitious and ready, we had to put together our organization quickly in order to meet the application deadline. And although we did not win the Call for Kindness grant, but we decided to persist and continue on with our organization.
Nervous but excited, we decided to pursue Confident, Healthy Women without the funding provided from the Call For Kindness. However, we were grateful for the experience from participating in the Call For Kindness contest because it prepared us in terms of finding partner organizations and laying out deadlines before starting. With support from our school, The Hewitt School we began by initiating a drive. We reached out to the New York Common Pantry to see what the women needed most. New York Common Pantry is a food choice pantry that works toward the reduction of hunger and food insecurity through an array of programs that are designed to provide the people of NYC with a healthy food supply. We chose to work with NYCP because we have been there several times and loved the sense of community there is at the pantry. We decided to talk to one of the women at NYCP and get her take on what feminine products she needs most. Some of her ideas were different than what we initially thought the women of NYCP would need. Although this woman was in need of some basic hygiene products like toothbrushes and deodorant, she put more emphasis on soap bars, socks, and under clothes. Establishing connections with the women receiving our goodie bags was very important to us since the beginning of our project. With this information, we formed a list that each grade would donate to target the exact needs of the women.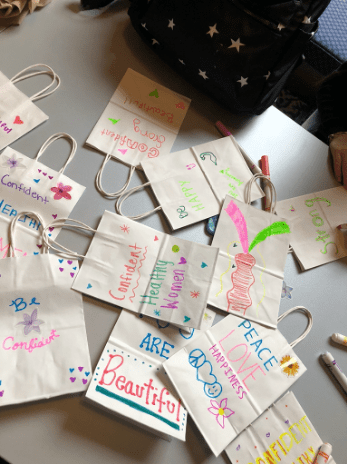 We collected donations from the lower, middle and upper schools at Hewitt and educated each grade on our drive. We went to different classes and talked about the reason for why we began this organization. We asked them to show their power pose, a pose in which they feel most confident. This gave them inspiration to write cards and decorate the bags for the products. The students were able to sympathize with the women who didn't have the products they used everyday. All ages wrote beautiful notes expressing confidence and strength. In addition, we contacted hundreds of beauty and feminine hygiene companies like Playtex and L'Oreal to ask for donations. Because we are a small organization, many big companies didn't take the time to respond. However, hope was restored in us when Grandpa Soaps sent us more than three hundred bars of soap. This donation provided all of our bags with soap and many with multiple bars.
After collecting all of our donations, the Student Service Board, a group of dedicated students who organize service activities and bring awareness to issues around the world, bagged all of these items. As we tied the last couple of bags with ribbon, the first feminine hygiene product drive was complete. It was not until all the bags were filled that we saw how many people in our school and community supported us in our initiative. With emails, presentations and lots of hard work, we put together over one hundred and fifty bags of menstrual products, toothpaste, toothbrushes and soap.
Looking forward, we would like to continue working with our organization and expanding our donation outlets and places we donate to. We very much want to start giving donations to women at rehabilitation centers like the Bowery Mission. We are going to try and partner with more feminine hygiene product companies and focus on receiving donations from companies, stories and other hygiene product distributors that support our initiate. We also want to find different places to put our donation bin in like dance studios and different schools in NYC. In addition, we will be applying for Call for Kindness once again this year. Now that we are more prepared and ready to address any obstacle, we feel like it is a good time to apply again. We believe that the sky's the limit for Confident, Healthy Women and we can't wait to see where we go with it next.