By Phoebe Grace (The Young Women's Leadership School of Astoria) & Sofia (The Hewitt School)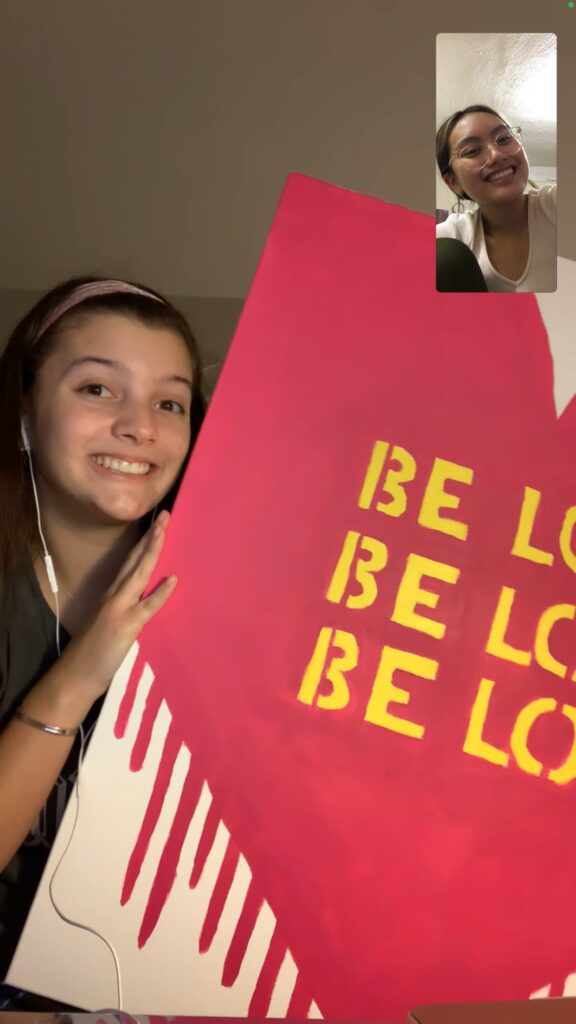 Introduction:
As new members of a Riley's Way Council, finding new friends comes with the program. Rileys Way's Foundation's mission is to spread empathy, kindness and most importantly make connections because networking is important. It's necessary to have that reliable and trusting partner to have your back, and this has made transitioning into Riley's Way fulfilling and irreplaceable. As new members of the Hewitt and Young Women's Leadership School of Astoria Council this year, we (Phoebe and Sofia) clicked on the spot claiming ourselves as "Best Friends." Phoebe is the kind-hearted sweetheart who kills everyone with a glimpse of her smile. Sofia, on the other hand, is the confident social bird whose positive energy is contagious. We have gained a friend for life. Although our journey has just begun, we can see that between us, great things are coming our way and we cannot wait to develop our contribution to Riley's Way Foundation.
Phoebe:
It all started, when I was outside playing volleyball when I got an email on my phone. For some reason, I waited to answer until the next day. I was a bit surprised that someone from The Hewitt School, who was also a new member of Riley's Way Council like me, reached out. Little did I know, she was going to be one of the funniest, most confident, and positive people I know. Sofia made the first move in introducing herself and explaining her idea to host a workshop for the upcoming Riley's Way (virtual) Youth Leadership Retreat. I was thrilled and amazed that someone had the courage to reach out to me,  since Sofia reached out after the very first meeting of Riley's Way Council. We set up a time to meet and it was one of the most mind blowing introductions. We instantly connected on Sofia's interest in zodiacs and me being a Leo to the point where we couldn't stop talking. It was going to be our first time at the Riley's Way Retreat, however, we knew we wanted our workshop to be a memorable and safe space. Brainstorming ideas for our workshop was tough, but Sofia made every idea I had feel welcomed and wanted to expand on it which made me open more. I didn't have to worry about if my ideas were half-baked but rather if it was something she wanted to improve and make something so inspiring out of it.
Sofia:
It all started in a meeting with Laura Kikuchi and Stephanie Dore when I asked them how to start a workshop for the Riley's Way Youth Leadership Retreat with a partner. I was eager to work with someone on the Riley's Way Council who went to TYWLS of Astoria and was a new member of the Council, like me. I wanted someone like Phoebe so both of our voices could be heard! Without hesitation, they gave me her email and I reached out to her at once. Making the email perfect was something that had to be done. I shared it with my family asking "Is this good enough," "Should I change anything," "Do you think she'll like me?!" was how important this email was to me. Waiting patiently, I got a response from her the next day and she agreed to the partnership. I was gushing out happiness from left and right. Having a new friend in the beginning of my first year of high school was my goal, and thanks to Phoebe I got to check that off my bucket list.
---
One of the first teamwork activities we did was an  icebreaker for our Riley's Way Council meeting. We did something engaging, entertaining, yet informative about Rileys' Way Foundation. Using a kahoot – a program where users and friends are able to quiz themselves on different topics virtually as if on a game show – we were able to quiz the Council members on their knowledge of the Councils, founders, events, blogs, inspirational people, and of course Riley herself! We did this by using our ideas, and combining them into bigger and better ones.  In this process, we went through multiple discussions over FaceTime and Google Docs, which allowed us to learn more about each other, and to grow our friendship and teamwork capabilities. This was, in a way, an icebreaker for us as collaborators to see in what ways this relationship could work. We were lucky enough to be flexible and capable of making decisions together with equal responsibility. Having a connection made the activity easier. We are blessed to have found one another, and a person that fits our mindset so well.
From then on, our collaboration turned into a friendship. Our FaceTime calls lasted beyond just working on our presentation. We bonded over our days, bedroom decor, paintings, zodiacs, outfits for spirit week, movies, music, and so much more. It's like everything we brought up was another thing we had in common. The conversation never dies down and we continue to encourage and support each other through school and life in general (our collaboration).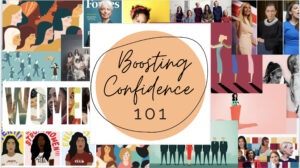 Working on Boosting Confidence 101, our workshop for the Youth Leadership Retreat,  all started with Sofia's idea to make a grand introduction to Riley's Way with a partner. Once Phoebe agreed, we set our first meeting to start brainstorming ideas. The process of making our presentation took a lot of time, but it let us learn more about each other and enhanced our presentation skills. This was a very important new chapter of our lives in Riley's Way; communicating our ideas and hopes for the change we wanted in society, specifically on women. Coming up with the concept of Boosting Confidence came from both of our personal experiences. Sharing how society, technology, and new sources of media has impacted both of our lives caused us to go deep in some conversations many nights. We strived to create that vulnerable space for women to let go of the tension, and to wake up every morning knowing their self worth. After we finished our presentation, we were ready to review with Laura Kikuchi and Lauren Shenkman. They helped us edit our presentation and provided insightful feedback, such as cutting unnecessary slides and paragraphs that took up the whole slide, and told us "The best presentations are the ones that don't go as planned." How the root of this workshop was our audiences' voices. Thanks to their help, we decided to make our presentation more of a conversation/discussion between every girl who attended. Many girls felt comfortable enough to open up and connect with us on a deeper level. This is where we brought back what they told us about: "The best presentations are the ones that don't go as planned." And we saw that the meaning of this advice was, it's better when you hear what the audience has to say, instead of giving them "instructions" to follow.
Presenting our workshop in our first Riley's Way Retreat went exactly as we hoped it would go. We listened to who the girls' role models were such as their Mom, Beyonce, siblings, and so many more. Although we went overtime and weren't able to finish the discussion, girls left our workshop feeling inspired, motivated, and confident. After the presentation, they went out of their way to leave amazing feedback, about how Boosting Confidence 101 was energizing and had a positive impact on their spirits. We were amazed by the praise; there were none-stop emails coming from the Riley's Way team, even those who couldn't make it but heard amazing things. We felt so accomplished and proud that this workshop was more than just a success but the start of opportunities given to us by Rileys Way. We have the privilege of getting to make a blog post because of how many girls we touched with our words of encouragement. We couldn't have gotten this far without our great chemistry and the many hours we spent trying to perfect our presentation when really the rawness and reality of the topic we discussed was more significant.
After these past 2 months of being members of the Riley's Way community, we are grateful to have been impacted by the kind spirits and meeting some of the most loving people. After seeing what we are capable of, we will take what we have learned at Riley's Way into the future world and use our empathy to make a kinder tomorrow, and our talent of helping others to treat others the way they would like to be treated. Also, because of Riley's Way, we have both gained a friend for life. Riley's Way has expanded our networks and gave us an opportunity to make connections we never thought we could. Spreading kindness and empathy has allowed us to view the world positively and motivates us to not only say but see our ideas come to life. Riley's Way is the first step to accomplishing social goals right down to the relationships we make. Reaching out to someone you don't know but are willing to take a chance in getting to know them shows how outgoing and courageous you are. How stepping out of your comfort zone makes you realize that taking a risk can lead to friendships or actions you would have never had the courage to do before. Or just willing to show someone how amazing, dedicated and ready you are to make a change because that person could be just as ready as you are or is waiting for you to introduce yourself. A simple act of kindness can take you a long way! Just be willing to give it a shot and trust that you are expanding yourself.