By: Brody Sandler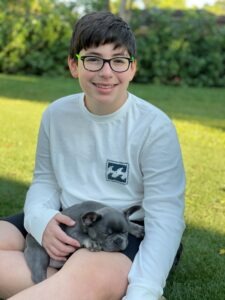 Hey There! I'm Brody Sandler, and this past year I had a chance to exchange some questions with one of our Call For Kindness winners, Matthew Tengtrakool. He especially caught my eye, seeing as I have some experiences surrounding the general topic of his project, iRemember. That's enough about me, let's get into the (virtual) interview!
Matthew Tengtrakool is the founder of iRemember, A startup created to help people share their stories and views on major world events that would shape us forever. iRemember puts a majority of that focus on those diagnosed with Alzheimer's, allowing them to carry on their legacy and have their voice heard. iRemember runs on the volunteer-ship in our Communities, giving us a chance to get involved with this amazing initiative. Matt also runs his podcast, "A Soon-to-be Voters guide," a way to bring the distant topic of politics into view for the next generation (me included!).
---
How has COVID-19 affected you personally, and iRemember?
Covid-19 has largely affected me and the greater community, however, I am grateful to be keeping healthy. Actually, in response to the pandemic, I started a program called QuaranGreen, which supports healthy eating and routine during the quarantine. You can learn more about it here: QuaranGreen.org. In regards to iRemember, Covid-19 has put a standstill on the in-person programming that I had planned for this fall, especially because of our work with seniors. Currently, I am working on creating online resources and conducting webinars. Because our platform is online, it provides the flexibility for virtual events and broad accessibility that is undoubtedly helpful during times like these.
What inspired you to create iRemember?
After interviewing my grandparents about their experiences escaping the civil war in Laos, I realized that we all have pertinent historical experiences to share. No matter how large or small, we all have been shaped by major historical events in some way. Like now, we all have our perspectives on the Covid-19 pandemic. This is why I started iRemember. I realized how important it is to work with people especially seniors, to preserve the memories and primary sources that we have today and create a more comprehensive picture of history.
What's it like managing both of your nonprofits and high school?
Managing a good work-life balance is super important to me. Sometimes, it can be hard to keep up with managing businesses, clubs, sports, and other groups, on top of school work and free time. However, I find each of these aspects is very important to me and it keeps me positive and fulfilled. I enjoy putting the effort in each activity I do and venture I pursue so in that sense I manage to keep positive and optimistic. Time-wise, I keep myself productive by keeping a schedule and creating small goals for myself. For other young students, I would highly recommend taking a step back to see what activities you are truly passionate about, with that comes great opportunity for initiative and personal growth.
Do you have a team working with you, Or do you run iRemember by yourself?
Currently, I manage all of the executive functions of iRemember. This involves the development of the platform, creating content, and organizing outreach events. However, iRemember is truly a volunteer and citizen-activist based organization. We run with the help of volunteers, whether it's through event organization or simply personal interviews. In the future, I look forward to being able to construct an organizational hierarchy that has regional representatives that can help us to grow and spread the project.
What's your favorite hobby?
My favorite hobby is playing tennis. I love to keep active, and I play almost every day throughout the year, except for the winter. I enjoy it both as an outlet to have fun and be competitive. On my high school team, I am the captain and play first singles.
Why did you decide to apply for the call for kindness competition?
I had the concept for iRemember for a long time, but I did not have the capital or support to start it. I found out about the Call for Kindness competition online, and it seemed like such a great opportunity, especially for a new organization. I appreciate the fact that Riley's Way invests in new and diverse ideas, and am grateful for the support. It's such a collaborative community and as a Call for Kindness winner, iRemember has been able to grow and begin to reach the stories of seniors across the nation with our newfound partnership.
How do you think we can all improve our communities?
If we all take small individual efforts, recognize issues, and foster conversation, our communities will be exponentially improved. It's really about harnessing the powers that we all have. We have to speak up and create action, tackling challenges with our own hands. Broad and overwhelming issues like global empathy and sustainability can be tackled if we all consider our actions in our communities.
---
That's all for now, but if you want to learn more about Matt, I've linked his website below!