By: Ermina, Intern, Riley's Way Bronx Council Alumna
Want to know more about what an internship entails at Riley's Way, the type of work being done in one, and overall what to expect? Read this interview below from our very own interns here at Riley's Way to give you a hidden scoop of their experience working this summer!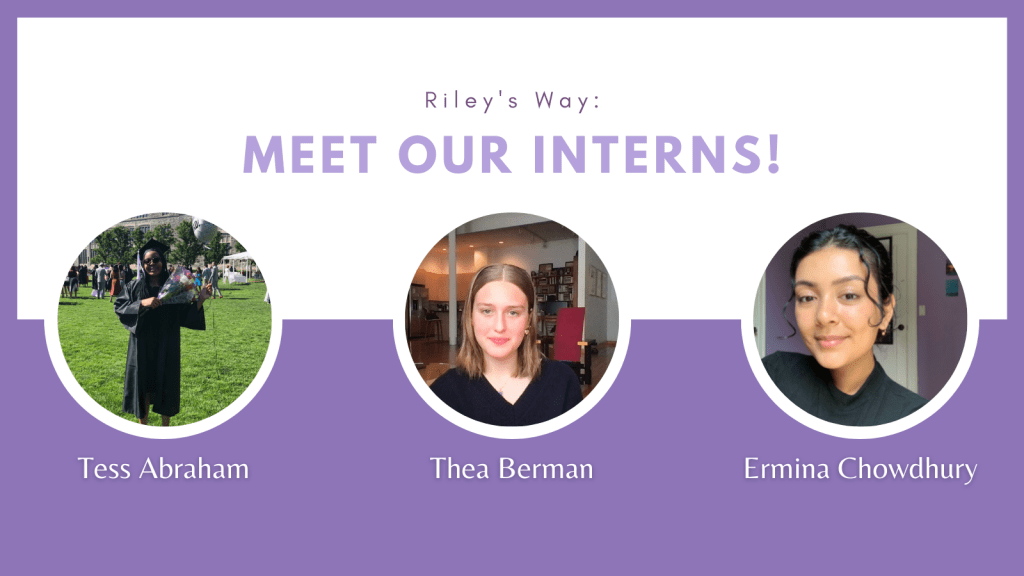 ---
Give an introduction to yourself: Who are you and what type of work have you done for Riley's Way? Also, what do you plan on pursuing in the future?
Tess: Hi! My name is Tess Abraham and I interned for Riley's Way this summer working on alumni engagement and social media. I'm an alumna of the TYWLS-Horace Mann Bronx Riley's Way Council as well as Ermina. I'm an incoming freshman at Barnard College, and though I don't know my major yet,  I hope to explore education, psychology, computer science, and the arts.
Ermina: Hello! My name is Ermina, and I'm an intern for Riley's Way this summer. I've been spending time on evaluating the Council curriculum thoroughly and brainstorming ways to improve it for future members. In terms of my future, I'm a freshman at Binghamton University planning to obtain a career in medicine aligned with acts of service.
Thea: Hi! My name is Thea, and I've been interning at Riley's Way since the start of 2021. I'm a sophomore at UC Berkeley, and while my major is still undecided, I hope to explore art history, sociology, and political theory. In addition to this internship, I spend a lot of time drawing and painting.
 Why did we choose to intern at Riley's Way?
Tess: I chose to intern because I enjoyed my experience as a Council member on the TYWLS-Horace Mann Bronx Council and I wanted to utilize the skills I learned. The values that Riley's Way encourages, such as empathy and kindness are truly important to me. Additionally, I wanted to be part of the creation of the budding alumni network and stay connected to the Riley's Way family.
Ermina: After being a part of the TYWLS-Horace Mann Bronx Council, I realized that I didn't see myself fully departing from such an amazing organization just yet! Riley's Way places a huge emphasis on treating others with undeniable empathy, a basic tenet of my life. Not only will I gain experience in administrative nonprofit work, I firmly believe that it'll help me become a better person. For example, I've deliberately placed myself in other people's shoes when curating questions for a survey, in order to receive the most genuine answers.
Thea: Since my time on the Council, Riley's Way has stood out to me because they have such a deep respect and care for the people they work with. As much as this community is committed to making a difference, there is a sincere dedication to each and every person involved – whether it be a Council member, a Call for Kindness Fellow, or a partner organization. The values of the foundation are put in practice each and every day.
What have we gained from this experience? How do we feel now?
Tess: I've learned the importance of balancing work and play during this internship and mastering time management. I feel proud of the work I accomplished and I'm looking forward to seeing how future interns will continue the alumni network by building upon the framework I started.
Ermina: I had the unique ability to determine my working schedule and recommend the tasks I wanted to work on. I had flexibility on what I wanted to do this summer and how to do it. Because of this internship, I've recognized that it's important to be in tune with yourself and set healthy boundaries.
Thea: Aside from learning new administrative skills like creating social media posts and drafting the biennial report, I've gained a lot of confidence in my skills throughout this internship. Initially, I was hesitant to take on projects where I felt that I didn't have a lot of expertise, but with the support of the Riley's Way staff, I really learned to trust my instincts!
Advice for any future interns?
Tess: Don't be afraid to reach out to the adults of Riley's Way. Your voice matters just as much as any other employee. The great thing about this organization is that they care about your input. What you're doing is not just "busy work," it has an impact. Be confident in your abilities!
Ermina: First off, congratulations on taking a step further within your career! Secondly, embrace change wholeheartedly! It is almost inevitable that you'll make mistakes and that's totally fine! New experiences are meant to put you at adversity in order to help you learn. The more experiences, the more equipped you are with life.
Thea: Don't be afraid to take on a project even if it's not something you thought you'd be doing. The skills you'll take away can be applicable in your schoolwork and in future job opportunities, not to mention the personal growth you'll experience by stepping outside of your comfort zone!