By: Shaylee Cooper, 2019 Call for Kindness Fellow & Retreat Participant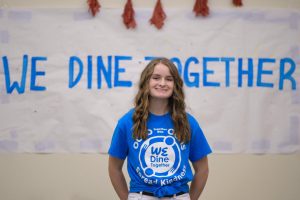 Hi, my name is Shaylee Cooper. I am a sophomore at George Fox University (GFU) in Oregon where I am a college athlete majoring in Nursing. Riley's Way Foundation has blessed me in many ways, including awarding me a Call for Kindness grant in 2019 to help me grow my segment of "We Dine Together." "We Dine Together" is an entirely student-led movement whose mission is to provide a "proactive & comprehensive solution to schools + communities." I used "We Dine Together" to make it a priority to create a positive social atmosphere at my high school. For new incoming students, the club is a welcoming committee. To others, the "We Dine Together" program can be a haven or space where they can be themselves without the fear of rejection, which embodies the Riley's Way mission to "use kindness and empathy to create meaningful connections and positive change."
I also had the honor of attending the first annual Riley's Way Youth Leadership Retreat at Timber Lake Camp in 2019. At the Retreat I met so many incredible young women who want to make a kinder world. I left the Retreat feeling empowered to take on the world.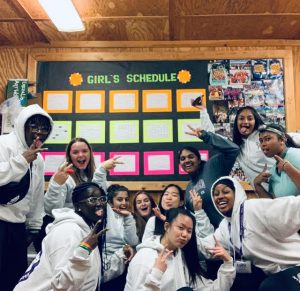 This October, I am excited to attend the Retreat again, this time as a Team Mentor working to guide and support the attendees. The theme for the Retreat is Care to Connect: Build a Kinder Tomorrow. Every human wants to feel valued and loved. Riley's Way does an excellent job educating teens on kind leadership skills and how to care for ourselves as we are helping create a kinder tomorrow.
As leaders, we love pouring kindness into people around us. It makes us happy and it positively impacts the world, but if we don't also care for ourselves, it can get hard on our mental health. To me, Care to Connect: Build a Kinder Tomorrow is a reminder that we need to make time for ourselves and focus on our mental health by implementing self-care in order to have a significant impact on the world.
As a student at GFU, I compete in both Cross Country and Track & Field. Being an athlete in college has a lot of benefits; running helps with my mental health. School is so challenging, it helps me to know that I can look forward to track practice. Practice allows me to focus on how I can improve myself. Everyday I make it a requirement to get a workout in, for I need to take time to focus on my own mental health. Whether that's an eleven-mile run or any exercise that can take up to 4 hours a day, it can be hard sometimes when you are doing a sport or are involved with leadership roles due to the pressures from our coaches and our team. Sometimes personal health gets put on the back burner.
A great example of this is Olympic gymnast, Simone Biles. The pressure of the sport put her mental health in the back of her mind until it was her time to shine. She realized that she needed to take a break. Simone Biles is changing the world by stepping down at the Olympics in order to prioritize her mental health.
I'm so incredibly inspired by Simone Biles. She took a step forward to improving mental health instead of pushing through and continuing her performance. She acknowledged that she knew that she could not do it, and she listened to her body.  If she did not listen to her body, she could have injured herself or hurt her team.
Simone was pressured by the outside world to do good. Any human under that pressure would crack. Katelyn Ohashi, an elite gymnast, stepped down from the sport because of the pressure of the outside world. After getting a stress fracture, Ohashi acknowledged that her body could not handle elite gymnastics. After recovering, she joined the UCLA gymnastics team and fell in love with gymnastics again. Without the pressure of the outside world, she scored a perfect ten, which is very rare in gymnastics.
This is a reminder that it doesn't matter how important the sport is or the event, for the importance is yourself. This year at the 2021 Riley's Way Youth Leadership Retreat, come ready to explore ways to care for yourself, connect with others, and combine those skills in order to build a kinder tomorrow.