By Phoebe Grace, Tiara, and Nickole
Bloggers from the Riley's Way TYWLS of Astoria + Hewitt Council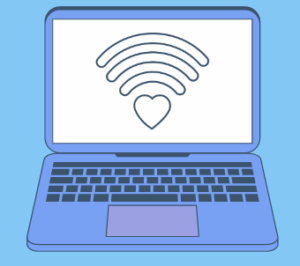 Is technology a gift or a distraction? A privilege or a right?
We as humans are constantly using technology whether it be to transport us from one place to another, communicate thousands of miles away, create medicine, or complete assignments to further our education. The average person uses their computer for about five to six hours daily. However, for students, computers/tablets/phones have become a necessity in classrooms, and for bringing these classrooms home. Commonly used applications include Google Classroom, Google Docs, search engines, Duolingo, and more. But what if you don't have that access?
The digital divide is the gap between people who have access to modern information and communications technology and those who don't. Digital divides exist everywhere: developed and developing countries, urban and rural populations, despite age and gender.
Part of the Digital Divide is the inequity of access. With the school year of 2020-2021 marking the start of the pandemic, becoming fully virtual and having access to a computer became crucial during the pandemic. Almost 20% of students could not complete assignments because they didn't have the technology (Nearly one-in-five teens can't always finish their homework because of the digital divide, 2018). Although some families were compensated, which benefited unemployed workers, the payment was used for necessities and utilities.
Extending past students, adults over the age of 65 are less likely to own a smartphone or have home broadband access (transmission of wide bandwidth data over a high-speed internet connection). Technology is ever-evolving and faster than society can keep up with economically. 77% of Americans subscribe to home broadband services in 2021. While this is a slight increase from 2019 (73%), about a quarter of the population still does not have a broadband internet connection at home (Verizon Fios). Our goal is to change that.
Although rural residents are less likely to be broadband users than suburban residents, only 29% of rural adults say the government has a responsibility to ensure that all Americans have a high-speed internet connection at home during the coronavirus outbreak. In comparison, 50% of urban residents and 35% of suburbanites say the same, according to previously unexplored data from an April 2020 Pew Research Center survey.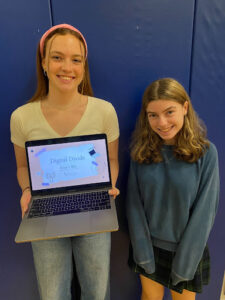 The TYWLS of Astoria and Hewitt School's Riley's Way Council chose to focus on the digital divide between students for our annual social justice reform project. Riley's Way Foundation is a non-profit organization determined to empower youth leaders with 2 important core values: Kindness and empathy.  Past social issues we've spread awareness about have included immigration, food insecurity, standardized testing, racial discrimination, global warming, and more.
We came to this decision by researching injustices that may deter a student's academic potential and voting on which topic we wanted to take action on.
The TYWLS of Astoria and Hewitt Riley's Way Council divided into three groups to research potential organizations we could partner with, come up with actions we could take to make an impact, and decide on ways to utilize our budget. Most of the TYWLS of Astoria and Hewitt  Council members had the privilege of hosting events where the community can donate gently used technology equipment for students without access to those devices to be provided the same opportunities as those with technology.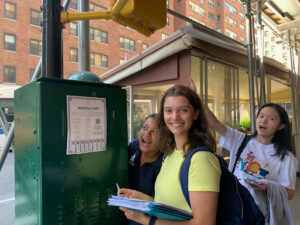 The TYWLS of Astoria and Hewitt Riley's Way Council worked to find commonalities between the ideas of the TYWLS of Astoria and Hewitt Council members, eventually settling on flyers and a town hall. The budget team came up with the idea of making flyers that will promote our project and provide information about wifi hubs with devices ready to be used. These guidebooks would contain different sections for the New York City boroughs with information on locations with access to WiFi and devices.
In addition to working with these companies, the TYWLS of Astoria and Hewitt Council members hosted town hall meetings at The Young Women's Leadership School of Astoria and Hewitt. In a recently held TYWLS of Astoria and Hewitt Council meeting, we conducted research to produce a presentation that informs students of the importance and impact technological accessibility may have on those currently in need. In addition, they have visited different grades' town halls to present to them about the digital divide, e-waste + how to donate technology, and Riley's Way, while also engaging their audience in Jeopardy to test their knowledge of the effects of the Digital Divide.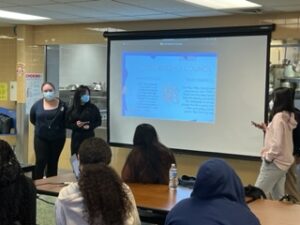 Within their presentation, a real story was shared to show how challenging the digital divide can be in overcoming:
The start of online learning in March of 2020 was difficult for unnamed sophomores in high school because they had to keep up with their studies using unreliable internet and less-than-ideal resources. They shared a 6-year-old iPad and 10-year-old laptop with their younger sister, who was also learning remotely. Both devices lacked good audio and camera quality. As you may imagine, that made synchronous classes practically impossible to engage with and even more difficult to participate in. This eventually negatively impacted their mental health.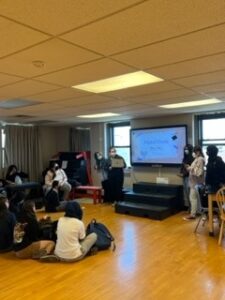 Determined to overcome this issue, they researched organizations and public resources that could help. They found Computers4People.  They soon received a laptop! This story provides insight into the gap between students that have quality technology and those who do not.
Segueing from this story to the broader concept: increasing digital literacy and accessibility increases the probability of success in education and career life. Digital literacy and accessibility go hand in hand since literacy increases the chance of access to employment. It allows for critical thinking, collaboration, and creativity. Furthermore, in the presentation, they depicted the initiatives that have been taken: New York Public Libraries + computer/internet access and Biden + the Affordable Connectivity Program.
This turned the focus to the environmental perspective involving the digital divide. When e-waste is warmed up, toxic chemicals are released into the air, which damages the atmosphere. The toxic materials (including lead, zinc, nickel, flame retardants, barium, and chromium) that most electronic devices are made of seep into groundwater when thrown into landfills. We then discussed how to help do our part in lessening this issue. It was indicated where, how, and what to donate: aged/used electronic devices.
Afterward, we talked about where to donate including at SAFE Disposal Events, Goodwill, Salvation Army, Best Buy, and Staples; then went into the process of how to do so. The Council displayed their product to further help to overcome this issue; fliers with a selection of locations where free wifi is accessible in each of the five boroughs including Starbucks, libraries, and popular public places to spread awareness.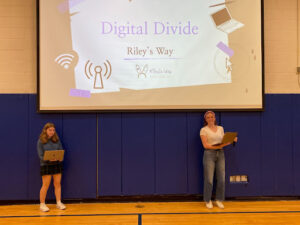 Coincidentally and fortuitously, it was brought to our attention that the White House had also released a statement on their website sharing how committed President Biden is to lowering the cost of high-speed wifi for many Americans so that it is affordable or free. President Biden recognizes how the internet has become a privilege when it should be seen as a necessity which is included in his Bipartisan Infrastructure Law.  The President and Vice President have collaborated with Democrats and Republicans to "create the Affordable Connectivity Program (ACP), which allows tens of millions of American households to reduce their internet service costs by up to $30/month (or $75/month on Tribal lands)." Click this link to see if you qualify and check out their plans for internet users struggling with affordability and durability. We included a QR code directly to the White House blog for people to scan on the go. We created tear-offs to make it easier for commuters to get the information they need as well as spread this opportunity faster. Along with the tear-off flier is another flier spreading awareness and informing the public on how serious the digital divide can affect families and the overall public further educating students, teachers, parents, and employees on this inequity.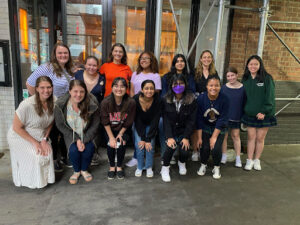 The Riley's Way TYWLS Astoria and Hewitt School Council has a way of bringing together life experiences, bright-minded, passionate members, and overall opportunities to make a difference. This topic was an eye-opener to many members of how fortunate we were to be able to come together digitally as we scoped out how we would make our impact. Having been fortunate enough to have this access, it is important for one to take advantage and take action as part of a community. By donating and recycling, mentioned by the councils as a way to help, one does their part to help this unjust matter. Having digital access is a privilege, which should be used to endeavor in countering this difference.