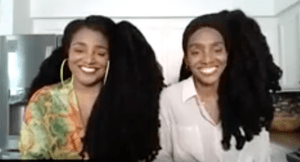 Riley's Way Visionaries Connect with Young Leaders During Interactive Workshop
Riley's Way Visionaries TK Wonder and Cipriana Quann — also known as the Quann Sisters — hosted an invigorating Call For Kindness (C4K) webinar on Thursday, September 22, on Time Management & Self-Care.
The event started with attendees sharing either a superpower they own or one they wish they could have. TK and Cipriana noted compassion as their superpower, a quality they've heavily leaned on while navigating childhood trauma and beyond. With infectious energy and a warm, engaging style, the identical twin sisters, models, and creatives shared tips on balancing life's competing interests: "take a step back to chill, catch your breath, and find your peace and centered state." Riley's Way's young leaders talked about their career aspirations and how they decompress when life gets hectic. As the Quann Sisters' shared, "There is strength in all of us sharing our stories." 
This C4K workshop style offered a creative list of tips to "develop habits over time" that help you master the art of self-care and time management. Below is a compilation of eleven helpful suggestions on how to effectively decompress:
Talk with friends or connect with a sibling or parent
Talking with a trusted confidant can be good therapy for the soul. During the C4K workshop, many attendees referenced a bond with their siblings as a surefire way to relax, connect, and be themselves. Others noted that calling Mom often gets them through any tough day or moment.
Watch a good show or movie
Indulging in your favorite sitcom, reality TV show, or that animated movie you've been putting off may be what you need to escape, even if for just an hour, from the hecticness of the day.
Laughter is medicine. According to the Mayo Clinic, "laughter enhances your intake of oxygen-rich air, stimulates your heart, lungs, and muscles, and increases the endorphins released by your brain."
Curling up with a good book or article can be a way to decompress — and learn something new!
Swim or do other exercises
Swimming and other forms of exercise have many benefits, which can be a relaxing and peaceful form of exercise that alleviates stress.
Unplug & carve outbreak times
Many studies indicate that unplugging from technology like smartphones can do wonders for our interpersonal relationships and in-person communication. Stepping away from emails and other forms of technology from time to time is healthy.
Listen to music, play an instrument, or create a playlist
Johns Hopkins Medicine says, "listening to or playing music is a great tool. It provides a total brain workout. Research has shown that listening to music can reduce anxiety, blood pressure, and pain and improve sleep quality, mood, mental alertness, and memory." C4K workshop attendee Avery even shared she created a Spotify playlist based on the hit TV show How to Get Away with Murder to help her relax and unwind.
Get out of your comfort zone & push through your fear
C4K workshop attendee Molly, who loves languages, including French, and studied in France, shared, "put yourself in place to make mistakes. When we let go of the need to be perfect, we open up to learning more about each other, becoming more inclusive, and expanding our world."
Bake or indulge in food that energizes you
C4K workshop participant Addie shared that she loves to bake for other people. According to GOODNESS's article, "5 Reasons Baking is Good for Mental Health," cooking is meditative, stimulates the senses, is creative, makes other people happy, and nourishes activities feel good!
Focusing on repetitive motions of individual stitches and counting rows can help our minds become more relaxed and freed from all-consuming worries and anxious ideas and thoughts.
Whether you live in a busy city or rural area, C4K attendee Ryan encouraged other workshop attendees to find a park and look up at the stars. According to the Center for Astrophysics | Harvard & Smithsonian, "Astronomy has a unique ability to unite humans. Simply by asking big questions about the Universe and our place in it, we see ourselves as we are: together, voyaging through a singular moment in time on one very special but relatively minuscule planet among the vastness of space." 
The Quann Sisters, who are founders and hosts of a new platform and YouTube show, Chew On Something, which focuses on their love of sisterhood, thought-provoking conversation, and good food, admitted technology is a huge part of their work and lives. Still, they emphasized the importance of doing things in moderation, seizing the moment, seeing the beauty in all you do, and, most importantly, recognizing your worth!
To learn more about the Quann Sisters, you can follow them on social media:
IG: @ChewOnSomethingOfficial
FB: @ChewOnSomething
IG: @CiprianaQuann
IG: @TK_Wonder
#QuannSisters
#ChewOnSomething