Thais Salas: Finding Her Place in the World through Riley's Way and Public Health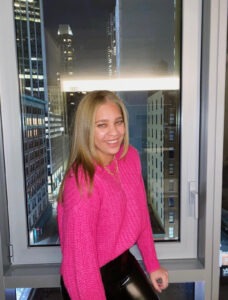 by Lexi Horner (current Riley's Way Council Co-Chair)

Through The Connector, we hope to connect Riley's Way alumni and celebrate your inspiring work by spotlighting an alum in each edition. By sharing the projects you are working on, we can spread awareness and educate the rest of the alumni community about the social justice issues you care about. Our hope is that someone reads the article and is inspired to either reach out to the alum about their project or create their own project. My name is Lexi Horner. I am the Co-Chair of the Nightingale and TYWLS East Harlem Riley's Way Council and I interned with Riley's Way this summer. During my internship I had the opportunity to interview Thais Salas, a Riley's Way alumna, and talk to her about her Riley's Way experience and how she has used it to guide her definition of kind leadership while in college.
Thais attended the Hewitt School in New York City and graduated in 2019. She was a member of the Hewitt and TYWLS Astoria Riley's Way Council during her junior and senior years after learning about Riley's Way through Stephanie Dore, Engagement and Events Director at Riley's Way and former faculty advisor of the Hewitt and TYWLS Astoria Council. Thais stated that everything she has "learned and experienced and taken from Riley's Way has always stuck with me, and …given me purpose."
Thais is going into her senior year at Cornell University where she is majoring in Human Development and minoring in Global Health. Public health is always something that she has been interested in, but applying to college put words to her interests. At Cornell, Thais is part of the Partners in Health Engage club, where she has been a member for three years and the Advocacy Lead for two years. Partners in Health works under the notion that everyone deserves the right to healthcare and they are currently working in 12 countries to ensure that quality healthcare is available.
This summer, Thais interned with one of her public health professors to work with the Boys and Girls Club of Harlem. She worked to teach children, but most specifically teens, how to make healthy snack choices. She explained that in Harlem and the Bronx, you see stores and delis on every street corner, which provide quick but unhealthy snacks for teens coming out of school. Thais worked with the Boys and Girls Club of Harlem to provide teens with more options for after school snacks and how to add healthier foods to the mix. Thais commented that Riley's Way has helped her "to continue what it is that I do because I feel like it's sometimes hard to find your place and find your ground in such a large community, or just the world in general, and Riley's Way has always been that organization, or just that bigger thing that keeps me grounded to who I am and reminds me as well that what I'm doing is right and it does impact a lot of people."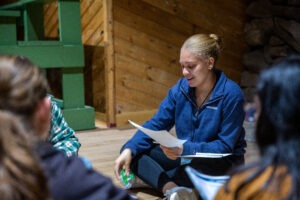 Thais explained that she has used Riley's Way values of kindness, empathy, and connection making a lot during her project with the Boys and Girls Club of Harlem. She said, "empathy is really important for this project because … it takes a lot of empathy, courage, and kindness to recognize these social justice issues and really think about the ways in which they affect other people." Thais has been able to use Riley's Way values in college by staying involved with social justice organizations in her community and actively trying to create positive change.
Thais explained that, to her, a kinder tomorrow is one where people are more understanding, patient, and empathetic with each other. She noted that, "even if you feel like you won't make an impact or if you feel like it won't be a long lasting one, more often than not it will affect people's lives in a positive way." The concept of doing good, even if you don't see an immediate result, is such an important thing to carry with you.