Through The Connector, we hope to connect Riley's Way alumni and celebrate your inspiring work by spotlighting an alum in each edition. By sharing the projects you are working on, we can spread awareness and educate the rest of the alumni community about the social justice issues you care about. Our hope is that someone reads the article and is inspired to either reach out to the alum about their project or create their own project. 
My name is Julia Best and I was on the Riley's Way Youth Leadership Retreat Student Planning Committee this year. I had the wonderful opportunity to interview Shaylee Cooper, a member of the Riley's Way alumni community, to discuss her experience with Riley's Way, what she has learned, and how she has spread kindness throughout her communities.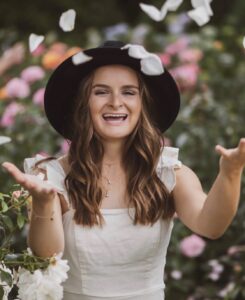 Shaylee is a current junior at George Fox University studying nursing. She is an avid runner and is on both George Fox's Cross Country and Track and Field teams. Shaylee initially became involved with Riley's Way through her Call For Kindness project, "We Dine Together," and has been involved with Riley's Way ever since. Shaylee was part of the inaugural Call For Kindness Fellowship year; her project was one of the first ever selected.  Shaylee also attended the first ever in-person Riley's Way Youth Leadership Retreat in 2019 as well as numerous other Riley's Way Retreats, and was recently a Team Mentor at the 2022 Youth Leadership Retreat!
"We Dine Together" was started by Denis Estimon in Florida to make sure no kids ate alone at lunch. Shaylee started a "We Dine Together" chapter in her hometown high school in Oregon. She worked to create a safe haven for people who felt like they didn't belong or feel safe. Supported by Riley's Way and Call For Kindness, Shaylee worked with her school to designate a classroom where students could go every lunch period.  She even organized bonding activities including going to an amusement park and bowling, which some of the students had never experienced before due to poverty lines.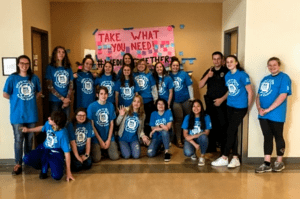 Shaylee's Call For Kindness project led her to attending Riley's Way's 2019 first in-person Youth Leadership Retreat. She learned many invaluable lessons during her time at the Retreat. Shaylee described, "Riley's Way has been able to give me the confidence I need to be able to talk to people I normally wouldn't have talked to, and to overcome anxiety barriers with public speaking." Shaylee talked about how this enabled her to feel more confident in speaking in front of big classes and spreading important messages throughout school. Her ability to communicate well with others has translated into her nursing work and her integral role in the nursing program at George Fox where she mentors incoming nursing students.
During one of her speeches to nursing underclassmen, Shaylee brought up Riley's Way and the impact of Riley's spirit. She reflected, "When I think about nursing, I think about Riley… and if I can take all the kindness that she gives all of us, and I'm able to care for the patients that I'm caring for today, that's just incredible."
After speaking with Shaylee and meeting her at the Retreat, I can firsthand account for how brave, hardworking, and caring she is. The world is lucky to have a future nurse who understands the importance of connecting with families and leads with empathy and kindness.