By Tatiana Simmons, Riley's Way Alumni Intern
Dread. I sat staring at my computer screen realizing I had just submitted my application for the position of Alumni Engagement Intern at Riley's Way Foundation, and that's how I felt. I was never the one to be in a leadership role. I was timid, working behind the scenes, but I wanted to start putting myself out there more and develop my communication skills. So when Riley's Way Engagement and Events Director, Stephanie Kingston, emailed me saying I got the position, you can imagine how ecstatic I felt.
From day one, I felt the support of the Riley's Way staff and knew I could do anything I set my mind to. I was so excited to get started and meet everyone. I started off meeting the whole staff and everyone was so nice and welcoming.
I quickly realized that I had a lot of learning to do. I didn't know how to use Google Docs or send calendar events and I was quickly discouraged. Since I am a perfectionist I set these high expectations for myself. I expected to excel right away and when I didn't, I got a little discouraged. However, Stephanie was very patient and helped guide me every step of the way.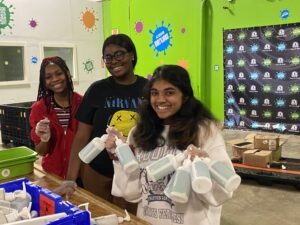 I really enjoyed working on projects such as the Riley's Way merchandise store and the Alumni Leadership Development Fund (coming soon!).The Leadership Development Fund is for Riley's Way alumni to help support them with the resources they might need, involving things such as getting a tutor or paying for a conference. It's an amazing thing when you can work on something from the very beginning when it's bare bones and be able to see it come to life. Developing the merchandise store allowed me to hone in on my creativity and I'm so excited that it's officially launched! Originally, we planned for the Leadership Development Fund to be a scholarship, but to help more students it became what it is now. Hopefully you all are just as excited as I am about these two amazing projects.
Looking back on the goals I set for myself when I first began, I am so proud of everything I accomplished. I am now very efficient in Google Docs and love sending calendar invites. I am able to network and build lasting relationships with others, develop work habits and attitudes necessary for job success, and increase my skills to understand and work with people from diverse backgrounds. The most valuable thing I accomplished was expanding my oral communication skills. I used to be so nervous meeting new people and engaging with them, but now, through my experience as the Riley's Way Alumni Engagement Intern, I have no problem talking to others.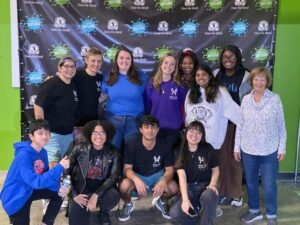 From interviewing young leaders in the Riley's Way Chapters for The Connector, the alumni newsletter, to working on Call For Kindness outreach and serving as a judge, and having the opportunity to sit on a hiring committee for a new Program Coordinator, my favorite thing has to be the inaugural Regional Alumni Meet-Up in Orlando, Florida. It was so nice to meet and connect with other alumni. We were able to share experiences, serve the community, inspire and encourage each other, and film a TikTok.
So, as my role as the Alumni Engagement Intern comes to a close, I just want to thank everyone for supporting me in this role and allowing me to grow. My goal was to reach as many alumni as possible and ensure that they are still active and involved in the Riley's Way community. My hope is that as many young people as possible get to experience Riley's Way and be just as touched as I was; being able to be a part of something that makes a difference in the lives of others. Luckily, I will be staying on the team to work on the Youth Leadership Retreat.