2022 Call For Kindness Fellow William Bai (RoboRecovery) shared the following speech at Riley's Way's first-ever Call For Kindness Retreat, which took place February 10-12, 2023, in Washington, DC.
Originally from San Jose, CA, William is currently a senior at Tulane University in New Orleans, LA, studying cell and molecular biology with minors in philosophy and business. His Call For Kindness project, RoboRecovery, works to dismantle socioeconomic barriers to STEM enrichment for K-12 students in the Greater New Orleans area, specifically in robotics.
Watch William's speech directly below, or read the excerpted version of William's speech below the video. Either way, we promise it will leave you laughing, maybe even crying, but most of all, you'll be inspired, rooting for William, his mentee Dylan, and anyone with the courage to use their passions and skills to make the world kinder, better, and more just.
Searching to no Avail for a Robotics Program in a New Orleans Public School
It's a Wednesday evening at the library in my second semester at Tulane University in New Orleans, LA. At Tulane, I need to complete community service to graduate, and this Wednesday evening, I am searching the internet for somewhere to complete my service. One of my first ideas is to mentor an educational robotics team at a local school. And while that is oddly particular for most, it seems like the most logical thing for me.
In middle and high school, I was thoroughly obsessed with robotics. I thought it was so fun to turn some plastic or metal into an animate being that could move around, could sense the world around it. And I think to myself, "You know what, if I enjoyed robotics so much, I want to facilitate robotics for students as my service opportunity." So, I jumped on Google, and after 30 minutes of searching, I cannot find a single robotics club in a New Orleans public school.
Interesting.
I could find plenty of results from the rich white private schools in the area. But not one from a public school. So, I kept digging. I eventually found a remotely related news article from a few years back. This article makes some passing reference to a cut in New Orleans after-school budgets. I begin to wonder, "Can these public schools afford robotics programs." Turns out, for the most part, no.
When I found out about this, I felt really frustrated. I grew up practically surrounded by extracurricular opportunities like robotics, and I believe that every child should have the same or better opportunities than I did.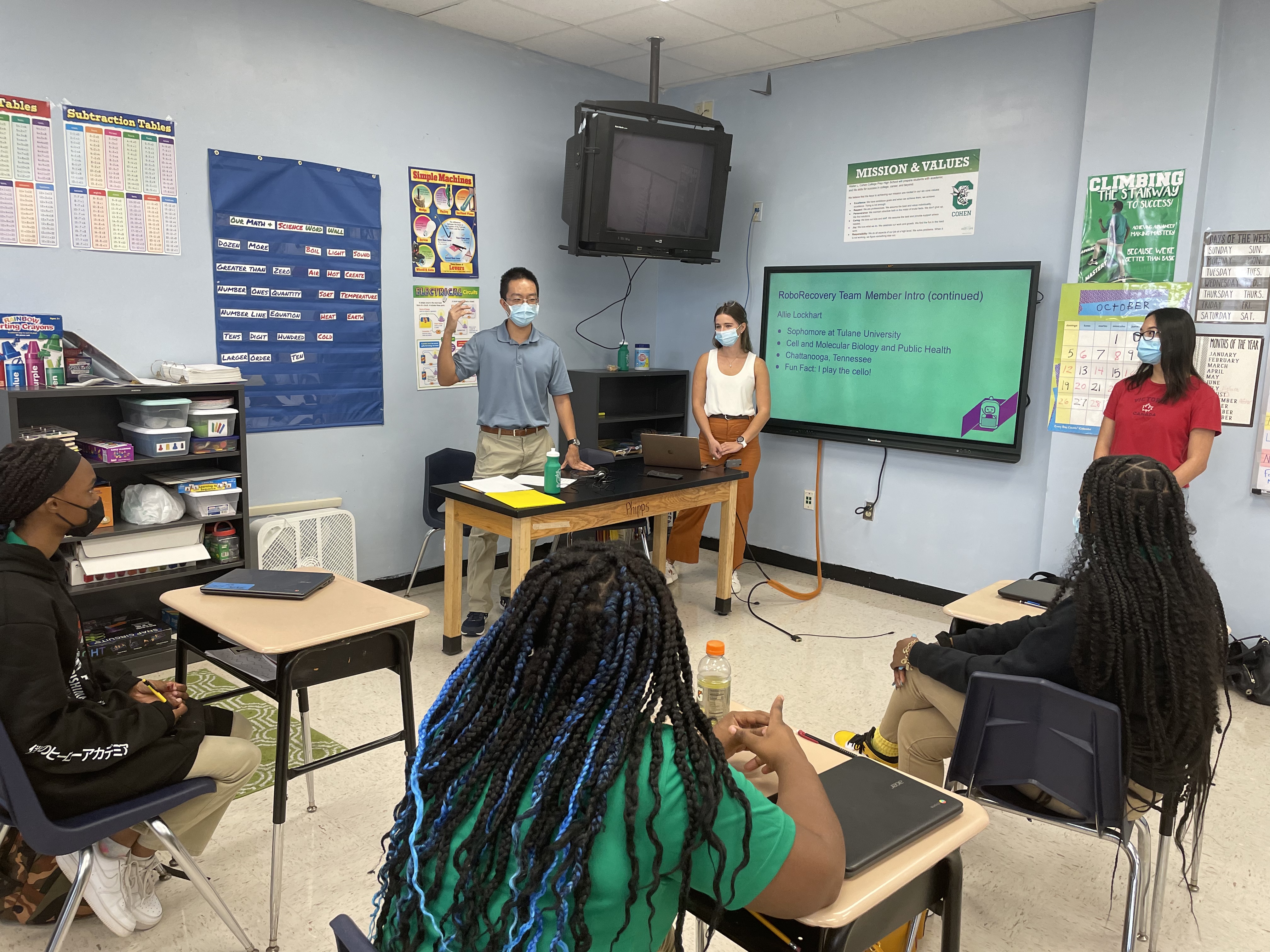 Deciding to Start One Myself
But the worst part was that no one was doing anything about this issue, and there was certainly no service opportunity. And so, by then, it's already 11pm, and I am walking back to my dorm, tired and grumpy but just awake enough to where you start just thinking random thoughts. And the silliest thought comes to me. What if I created my own service opportunity? I saw a community issue I really cared about, and no one was doing anything about it. Why couldn't I be the first?
And so, I started a free after-school robotics program called RoboRecovery the next fall. And it's no walk in the park. I had to find schools willing to work with some college kid, recruit volunteers, apply for funding, and ask for donations of equipment.
Essentially, the stars had to align, and if it did not, the after-school program would fall apart. So, in the weeks leading up to our first program, I am a nervous ball of stress, but on the first days of the program, I realize my struggles are nothing compared to the obstacles that my students face just growing up. We start our first program with this organization that mentors fatherless boys and most of these boys come from families living near the poverty line.
Dylan
One of these students is Dylan, and as I chat with him, I cannot even begin to imagine the obstacles Dylan faces just to be where he is.
But regardless, Dylan is a pain in the butt to work with. Every Monday and Thursday, Dylan shows up to make a scene, riling them up and turning robotics club into an awful symphony between younger boys with high-pitched squeals and older boys whose voices are just beginning to crack. My volunteers and I, as well as our ears, cannot handle this mess.
Eventually, I got the courage to confront Dylan after class. I'm trying to be as nice as possible to a 5th grader. And so, I say, "Dylan, be honest with me, do you really want to be here." Dylan looks down and says nothing. He clearly knows what to do when he is in trouble. I'm trying to work a response out of him. "Dylan, you're not gonna make me upset if you say you don't."
There is this long pause, and I think that made Dylan uncomfortable enough to talk.
"Sometimes I just don't get it."
I try to clarify, "What don't you get?"
"I dunno, the whole coding thing."
And at that point, I had a hypothesis. Dylan had fallen behind, and instead of asking for help, he hid it so perfectly by being the troublemaker. And I resolve to start working more closely with Dylan.
I started quizzing him because he couldn't hide what he did not understand if he had to explain. And the more we did this, I saw his eyes open wide, and he shouts, "OOOOHH, I get it."
And rather than asking him questions, he starts asking me questions like, "How can my robot find an object?" He is getting it, and he's excited to come to robotics, and I am equally as excited to be learning.
It's now a year and a half later. I am talking to Dylan's mentor and learned that he is the lead programmer on their robotics team, which is an incredible turnaround. I tell Dylan, "You've really changed a lot, I guess you got a lot out of robotics."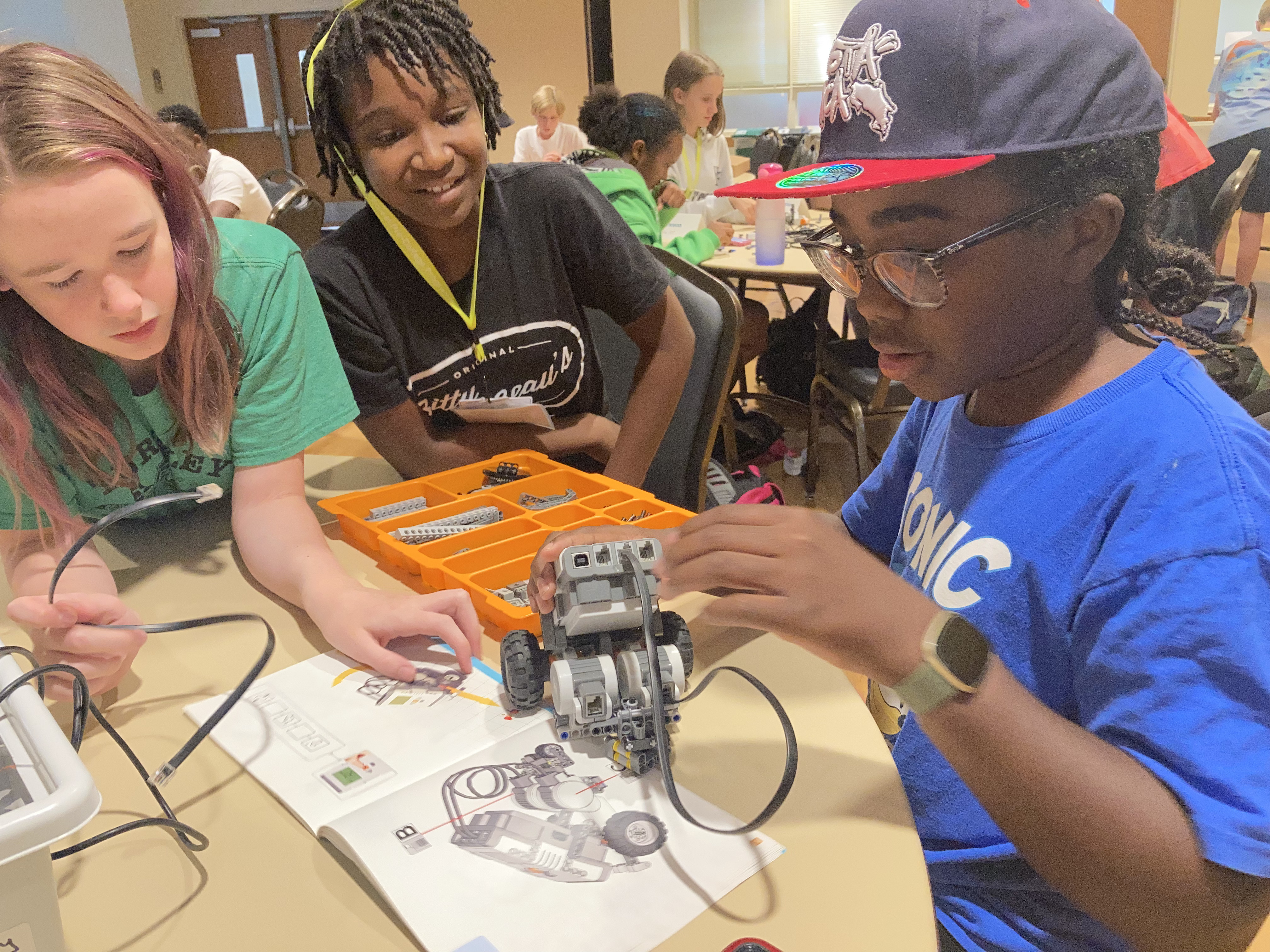 A Turning Point for Dylan — and Me
And rather than looking down while he talks to me, as he did before, Dylan looks at me confidently and says, "Oh, for sure."
I was pleasantly shocked. I want to probe further and say, "That's awesome, do you want to do something with robotics in your career?"
And he says, "Kinda, I want to major in chemical engineering in college."
As I drive home that day, there's a lot of traffic, which gives me time to think.
"Chemical engineering"? Heck, when I was Dylan's age, I did not know that those two words went together. How did Dylan know chemical engineering? And then I realized I had gone full circle.
Back when I couldn't find a robotics club to volunteer with, I set out to create that opportunity in a community without it. And now, seeing that Dylan sees himself as a future engineer because of robotics made me feel so awesome inside.
And even as people were honking at me and cutting me off in rush hour traffic, I could not resist the urge to smile the entire way home… I realized that even as hard as it was to work with Dylan, I really enjoyed it and want to continue to work with people like him.