Understanding the Value of Making Change at the Whole Girl Educational Conference
By: Sasha Hori and Tamanna Begum, Riley's Way's Call for Kindness Fellows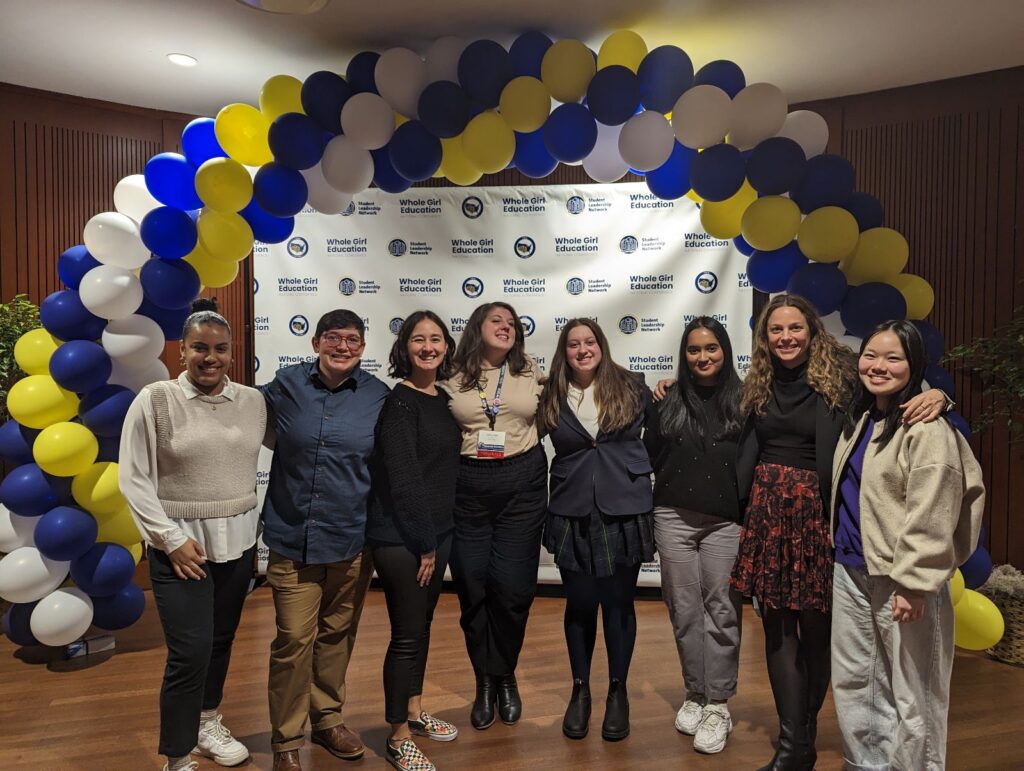 Earlier this March, the Student Leadership Network hosted the Whole Girl Educational Conference at Barnard College, which connected a number of communities, leaders, and changemakers together. Riley's Way was one of the many organizations represented and we had the opportunity to present alongside! We co-founded a youth-led organization called the Tech Inclusion Project, which aims to increase diversity in the technology field. Our project and mission emerged from the 2021 Riley's Way Call For Kindness, which has guided and helped grow our project to great lengths. Therefore, when we received this opportunity to speak upon Riley's Way and its impact at the Whole Girl Educational Conference, we immediately said yes!
At the conference, we helped lead a workshop alongside other wonderful and inspiring changemakers. Leia, the current leader of the Confident, Healthy Women, another Call For Kindness project co-presented with us. She also is a Riley's Way Council member from the Hewitt School, and went to the Youth Leadership Retreat. In addition, we spoke alongside Allison Gaia, our organization's project mentor and the TYWLS of Astoria & Hewitt Riley's Way Council faculty member and Laura Dunn, Riley's Way's Director of Operations, and Lauren Shenkman, Riley's Way's Director of Partnerships and Programs.
The purpose of the workshop was to share how Riley's Way encourages change making through their various programs such as the Call for Kindness, the Riley's Council, and the Youth Leadership Retreat. We and the other speakers shared our own experiences with Riley's Way and how they have helped us sustain the impact we have made. We described our own growth with the Tech Inclusion Project, which Riley's Way has guided us with by offering consistent support, new networks, and any type of resources.
Our audience themselves were making change in their own ways. Some workshop participants were teachers, principals, non profit founders, and came from a variety of backgrounds, identities, and roles.  It was an opportunity to meet people with amazing stories and those who were now interested in ours.
After discussing how making change is a fundamental part of Riley's Way, we led an activity to prompt our audience to understand what that process is like. The activity was titled "What Breaks Your Heart / What Keeps You Up At Night," (which may sound familiar to those on the Riley's Way Councils and Chapters), where participants grouped up and wrote down global, national, community, and personal issues that are prominent in their lives. After each round, a group would move to another group's paper and highlight any issues they are just as concerned with or are interested in learning more about. The purpose of the activity was to narrow down a specific issue. By the end of the activity, our audience had a better understanding of the issues they wanted to target including topics like housing inequity or gender discrimination. It was a reminder that before we create kindness and change, the first step is to identify what exactly needs to be changed and reformed. We were glad to hear our participants' positive feedback on how the activity was impactful and they were sure they will utilize them for their own mentees.
Being able to engage with so many leaders with their own unique stories at the conference expanded our understanding of making change in the community. Some made change through large initiatives and organizations, while others connected one on one with individuals to make an impact. Their experiences reminded us that change comes in various forms, from making an influence on our personal communities or making change on a national scale. Regardless, Riley's Way has helped foster those changes for several youth leaders. For us and many other changemakers, Riley's Way has amplified and secured our voices. The Whole Girl Educational Conference truly was an exchange of how we all make an impact in our community in some shape or form.