At a spectacular virtual Call For Kindness (C4K) celebration held May 6, on Riley's birthday, we announced the new cohort of forty C4K Fellows and eighteen Continuation Grant Recipients. Young changemakers talked about the positive impact the C4K has had on their lives and development as leaders.
Michal, a 2020 C4K Fellow (Flint Justice Project), Youth Advisory Board member, and current second-year med student, shared that the celebration was a "powerful testament to what happens when we young people dare to dream – and dream big!" 
The evening was marked by heartwarming and inspiring stories of current C4K Fellows making a lasting impact in the world, music from 2022 Fellows Sydney and Brayden of the (Be)Kind Initiative, and the Sandler family.
"As Riley's family, this is such an important event for us, and we are honored to announce the winners for our special topic of Environmental Justice," shared Ian Sandler, Riley's dad and Co-Founder of Riley's Way, who sat alongside wife Mackenzie, Co-Founder of Riley's Way, and children Brody and Ruby. "This topic was selected by our young changemakers for its critical importance, and the projects we selected discuss issues relating to sustainability, the climate crisis, environmental inequity, and more."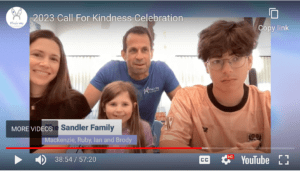 Other announcements included the 2023 Yuriko Kikuchi Arigato Award winner in the special dance and performing arts category in honor of Yuriko, the pioneering dancer and choreographer. Clara and team of Wired 4 Dance, who won the award, provide adaptive, inclusive, and therapeutic dance classes to underserved youth with disabilities. 
And the first-ever Alumni Award was bestowed to current Columbia University student Marjorie Kreynin, who has demonstrated an ongoing engagement with Riley's Way, from being a leader in high school on the Hewitt and TYWLS of Astoria Council to working with the C4K since its beginning by organizing national outreach and being a C4K Judge. 
If you missed any of the Call For Kindness Celebration, no worries! You can watch the incredible program here: https://rileysway.org/call-for-kindness-2023-celebration/. And check out more about the C4K Fellow's projects on our website here: https://www.rileysway.org/call-for-kindness/.