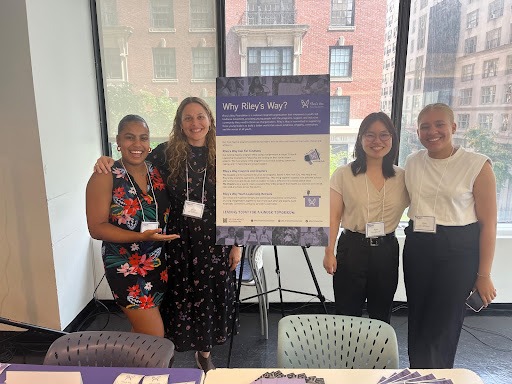 By Sasha Hori and Thais Salas
On August 11, Riley's Way had the opportunity of being part of the READ Alliance YOUth Summit themed "The Power of Youth." READ Alliance is a nonprofit organization that works to accelerate the educational trajectory of early elementary students through the power of teens who provide one-to-one literacy tutoring in under-resourced communities. For the past five years, READ Alliance has hosted a YOUth Summit for teen leaders to celebrate their summer employment and participation in READ's leadership programming. Held at Hunter College, teen leaders from all five boroughs came together to connect and network with other leaders as well. The day was full of many activities, and Riley's Way staff and students were able to join in on the fun during the Opportunity Hub and Rapid Roundtables.
As we sat around our table, we wondered what conversations would arise with students attending the summit. Knowing they had spent the past year volunteering to teach elementary school students literacy skills, we were excited to hear what brought them to READ Alliance. Before we realized it, the doors opened and about 200 students walked into the room filled with professionals from different fields. The large cafeteria space had experts in sectors like sports & entertainment, philanthropy, marketing, and nonprofits.
This section of the conference, the Rapid Roundtables, consisted of 5-7 students sitting with representatives from different fields. Students had the opportunity to ask for career advice and explore different paths presented to them. Riley's Way met with students passionate about fields ranging from medicine to law to computer science. The attendees were all eager to hear how the staff at Riley's Way ended up in their positions. In particular, many students were interested in knowing how someone knows if "they are on the right path.".The majority answer was that no one really knows at first.
Naya, one of the Program Coordinators at Riley's Way, stated that she thought she would go into education when she was in high school but later realized that she could teach outside of the classroom by cultivating an environment that gives young people the tools they need to make a change in their community.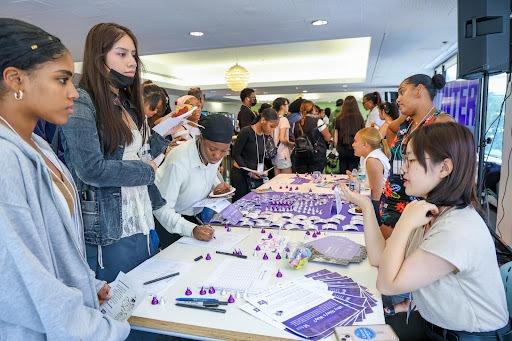 The Opportunity Hub, similar to a college fair, gave teens the opportunity to chat with READ Alliance's partner organizations such as Riley's Way. We were able to answer questions about our careers but also share the work we do as an organization. It was great seeing students inspired by our work and finding ways to make changes in their communities.
Thais Salas, one the newest additions to the Riley's Way team, and a former Council member from the TYWLS Astoria + Hewitt Council, and our first Alumni hire, shared:
"The READ Alliance YOUth Summit was my first in person event as a Program Coordinator. It was inspiring to see so many young leaders together full of passion and curiosity. Not only was I able to share my experiences and the work I do at Riley's Way, but I also learned from the READ Alliance teens. Their willingness to network and ask questions reminded me just how important making connections is."
Sasha Hori, a 2021 Call For Kindness Fellow (Tech Inclusion Project) shared:
"The Rapid Roundtables gave me a chance to hear how Lauren, Naya, and Thais got to Riley's Way. As I'm looking into my future, it was reassuring to hear that most people changed paths as they developed their careers. During the second section of the conference, the Opportunity Hub, I had a chance to talk about my Call For Kindness Project, the Tech Inclusion Project. The conversations it sparked were inspiring, and I was glad to see students interested in getting involved in both Riley's Way and the Tech Inclusion Project."